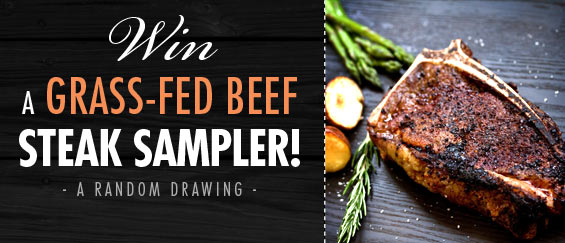 You just have another day or so to enter the contest, and hopefully win a huge box of grass fed steaks!
The Marx Foods Grass-Fed Steak Sampler
four 6oz Grass-Fed Filet Mignons
four 12oz Grass-Fed NY Strip Steaks
four 10oz Grass-Fed Ribeye Steaks
Head over to Marx Foods and let them know your favorite kind of steak, even if it's not in the sampler. You have through Sunday, October 30th to make your comment and enter the contest.
What's so special about grass-fed beef? It's delicious, and because it's fed on grass rather than corn and other grains, it tastes the way steaks tasted when your grandfather was grilling them. The fat is healthier, too. You know those fish oil capsules that you pop? Well, omega-3 fats are in this steak, so you can pop less.
Get over to
Marx Foods
, and after you're done commenting (and crossing your fingers for the big win), check out all the other amazing things that they have on the site. You just can't find this stuff at your local stores; antelope, elk, venison, and even more. Here are the links to Marx Foods
Meats
&
Poultry
.
Remember to subscribe to their blog and get updates on all the great recipes that they create, like this Provencal-Style Antelope Stew, just posted today!