It's been a while since I posted a recipe, but only because the pictures usually are either forgotten or simply look like crap. Many of the things I cook are brown, and brown isn't pretty in a bowl unless it's gelato.
I'm not going to look up the history of chili colorado, but I'll hazard a guess that it's the original bowl of red that's the ancestor of the Texas bowl of red (aka chili con carne). Texas Red is more complicated, while this is simple. Texas Red has other stuff in chunks and pieces, while this is just beef and chili sauce. Simple.
As with a Texas Red, if you put things like beans, corn, and chunked vegetables in chili colorado, it's not longer the real deal; chili colorado should be beef (not pork) and a fairly smooth sauce, with any spices finely ground, and vegetables? On the side.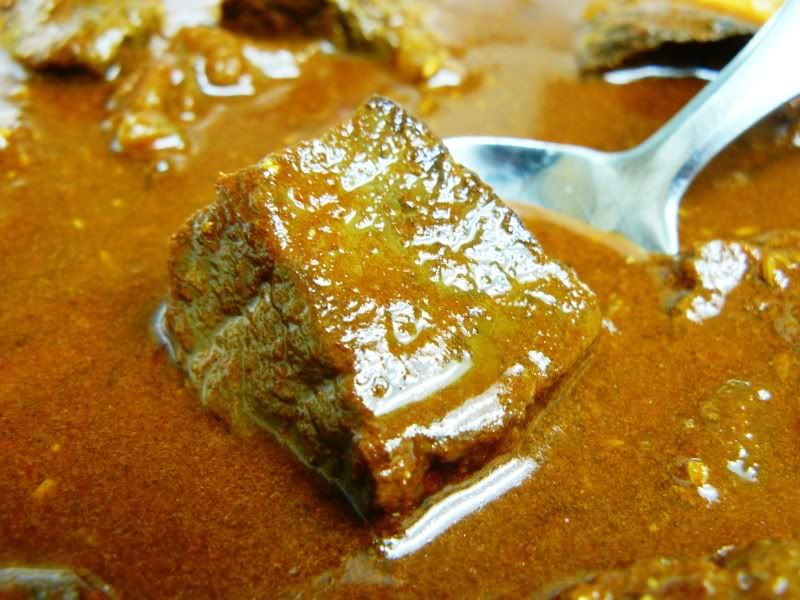 Chili colorado
This is a simple recipe, and can be as mild or as hot as you like. Many people don't realize that paprika is a chili, and as long as you don't get some fancy paprika from the Hungarian section, it tends to be sweet and mild and readily available. I buy mine in a large pack at the local Persian market, where you get fresh and sweet paprika at the price of $4 for about a pound!
Alternately, look for ground California (mild, but not as mild as paprika), Anaheim or New Mexico (tends to hot), or Ancho (tends to hot).
Just make sure not to buy chili powder, which is usually a spice mixture, not just ground chilis!
Makes 4-6 servings
Ingredients
1.5 lbs beef (like chuck roast)
1 tsp fat (I used pork fat)
1 medium onion
1 oz dried and ground chili, such as paprika, California, New Mexico, ancho, etc.
1 tbsp cumin, ground
1 tsp salt
2-3 cups water
Directions
Cube the beef chuck or roast. Brown the meat in a heavy skillet, then place it in the slow cooker.
Add fat to the skillet and brown the onions. Add the onions to the slow cooker.
Spinkle the powdered chili, cumin, and salt over the meat and stir to coat.
Deglaze the skillet with water. Taste to make sure it's not bitter, and if not, add it to the slow cooker along with the rest of the water. Stir, and cook for the day on the low setting, or several hours on the high setting.
If you don't have a slow cooker, just simmer for a couple of hours in a heavy, covered pot over low heat until the meat is tender.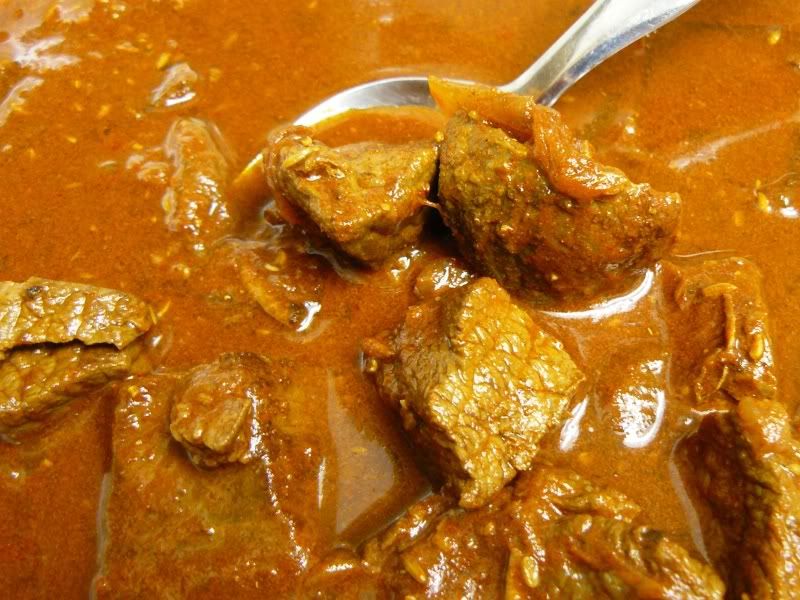 Salt to taste, and serve with grilled or roasted vegetables, such as zucchini, squash, peppers, and onions. If you're not a paleo, do what you will with this; I will not be responsible...
We ate our salads before I remembered the camera, so you get no pics of them, but I'll post the recipes. No extra charge.
Free Bonus Recipes
Avocado Lime Salad
Makes 4 servings
2 red bell peppers, seeded, quartered, then cut into slivers
3/4 large ripe avocado, cubed
1 lime, juiced
1/4 tsp cumin, ground
salt to taste
Mix everything together and let it sit out for 30 minutes to an hour. Eat.
Mexican Chopped Salad
Makes 4 servings
1 yellow bell pepper, seeded and chopped into bite size pieces
1 pint cherry tomatoes, cut in half
3 Persian cucumbers, chopped into bite size pieces
salt to taste
1/4 large ripe avocado, mashed
1-2 tsp lime juice
Add all veggies to a large bowl. Salt to taste, and stir. Allow it to sit at room temperature for 15-30 minutes until it's good and juicy. Stir the mashed avocado and lime juice together. Stir well, incorporating the avocado and vegetable juices into a dressing. Eat.
Pan Grilled Zucchini
Makes 4 servings
6 medium zucchini, cut into circles
2 tsp expeller pressed coconut oil
1 tsp paprika
salt to taste
Heat oil in one or two large skillets, Add zucchini, cooking until browned on one side. Flip and brown the other side. Sprinkle with paprika and salt. Eat. Everything.