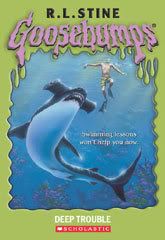 This weekend Tony picked out a book at the bookstore. A Goosebumps book called "Deep Trouble."
He has never liked reading before. But, he started reading this in the car on the way home. And, he never put it down until he was done.
He read it more after dinner at the restaurant, in bed, when he woke up, instead of watching a dvd, instead of playing his DS, etc. He even chose the book over fishing!
It too him 46 hours of elapsed time, according to him. Pretty speedy for a boy who's never read a real book on his own.
When he was done, he opened it up to the inside front cover and wrote "To Tommy. From Dad. I love you" and asked Kim (his Mom) if she would save it for him so he could give his first book to his son, someday. He likes the name "Tommy," I guess... Who knew?