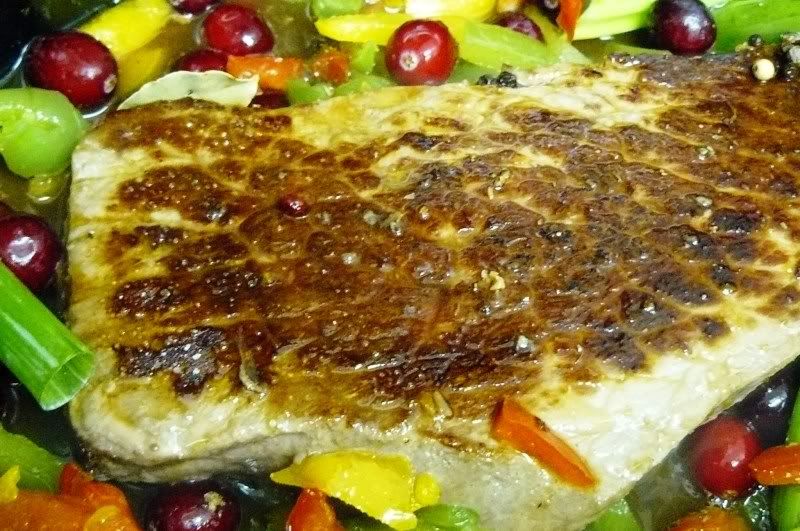 I love the combination of cranberries and juniper berries with braised meat. A little fresh sage would be be a good optional touch if you have some. Sometimes I like sage, and sometimes I don't.
Serves 3-4 people
Ingredients
1 tbsp peppercorns, cracked
1 tbsp juniper berries, cracked
1/2 cup cranberries, fresh or frozen
1 cup bell pepper (about 1 or 2 peppers), chopped
2 green onions, chopped
1 1/2 lbs flank steak (or another chunk of beef)
2 cups beef or vegetable broth
1 tsp sea salt
5 bay leaves
extra water
Directions
Brown the meat on all sides and transfer to your slow cooker. Pile all the veggies, cranberries (still frozen is fine), herbs, and spices around it, add the broth and enough water to almost cover the beef.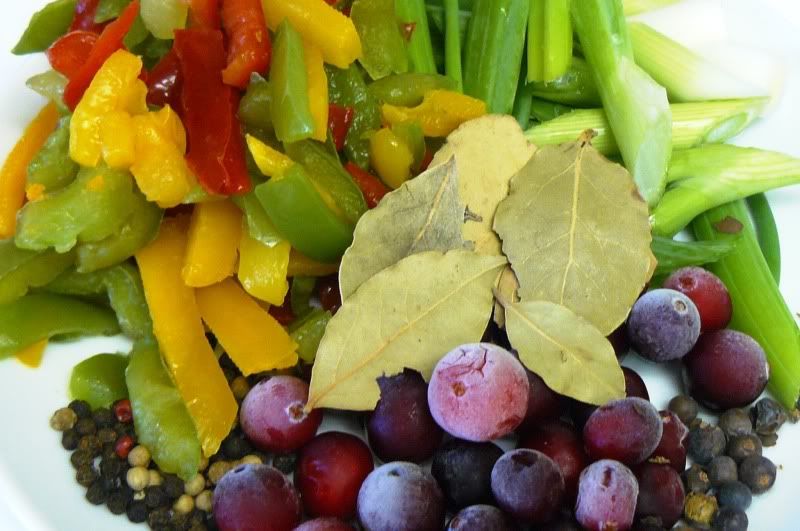 Cook the beef according to your slow cooker's directions. For me and my slow cooker, it was "low" for the whole day, and I came home from work to ready-to-eat beef!
Have no slow cooker? Simmer on low, covered for a couple of hours, making sure it doesn't dry up and start to burn. The slow cooker isn't magic, just easy.
I think I served most of this fork tender beef with some sort of
chopped vegetable salad
, but I saved the broth and some of the meat for soup the next day.
Leftover Beef Soup
There's no magic to this soup, either. I chopped up some summer squash, the meat, and brought the broth to a simmer.
Serves 1
Ingredients
Yesterday's beef
Yesterday's broth
Misc summer squash from crisper, chopped
Directions
Bring it all to a simmer and let it go until the squash is tender.
Eat.