After posting
this recipe
the other day, a more "primal-eating" pal of mine asked me about the grilled pumpkin that I had mentioned in the recipe. It seems the interest in the new Primal Blueprint book is stirring up questions about what are some good vegetables to eat on a primal or paleo diet. Hint; pumpkin is cool. ;)
I hate to keep pushing it, but you still have time to get
a great book
, the free bonuses, and help get Mark's healthy eating message into the mainstream. Getting on the New York Times Bestseller List makes it more likely to make the news, get doctors talking about it, and more people healthy and fit. I really believe in this message, and if can bring to discussion to the mainstream, so much the better. It's under $14, and if you
purchase it
before midnight, Monday October 24th, you can help out, get healthy, AND get free stuff.
And now, back to the recipe...
The other day, I pretty much glossed over the pumpkin near the end of the recipe, but pumpkin (or winter squash) is actually my own go-to starch for chili in the fall and winter.
Here's the pumpkin that I'm currently eating my way through...
21 pounds of pumpkin
21 pounds... That's a lot of pumpkin. I've already eaten almost half of it, my freezer is now stocked with a huge bag of fresh cubed pumpkin, and my fridge is filled with 11 cups of pumpkin puree for soups and whatever. That's a lot of pumpkin...
I got this big dude at Trader Joe's ($5.99). It's one of those Fairy Tale Pumpkins that have been populare for Halloween the last few years. When I went to Bulgaria last summer, these guys were all over the place. ...as food. Who knew? ;)
This wedge alone weighed 5lbs
This is a pretty cost effective squash, even if I can't eat it all. At the grocery store, a tiny one pound sliver of that yellow banana squash is two or three dollars! A tiny whole butternut squash is three to five dollars! A sugar pumpkin or pie pumpkin is anywhere from $3 to $6, depending on whether they think you are going to eat it or use it as decor. Go big
or
and go home (and start cutting)!
Please note that some of my recipe info is duplicated from Sunday's, but there's a definite lack of beanage today. Chili doesn't have to have beans to be chili. In fact, enter a chili cookoff and you'll find they usually have a strict, no bean policy for judging. Like cookoff chilis, my chilis tend to be merely chili con carne, or chili with meat. ...and each of us in the family will do with it what we will, whether it's adding squash, pumpkin, eggplant, summer squash, or just eating it as is with some stuff on the side.
Braised chili con carne with grilled pumpkin
The meat is simply braised - either in your slow cooker, a dutch oven, or heavy bottomed pot. It uses thinly sliced meat that shortens the cooking time and leaves it extra tender. It looks good arranged on the plate, too.
The sauce is a simple chili puree, it would normally be stirred into the chili, but drizzled on top, it looks great!
As to the serving size and the amount of pumpkin, please note that I usually eat a large serving of pumpkin (over a pound) at a sitting. A
pound
(peeled and weighed before cooking) has only about 120 calories and 30g of carbohydrate, so it's not a lot of calories, but it is a lot of food. Feel free to tone it down. I suggest four pounds for serving 6-8 people, but go up or down, depending on appetites.
Makes 6-8 servings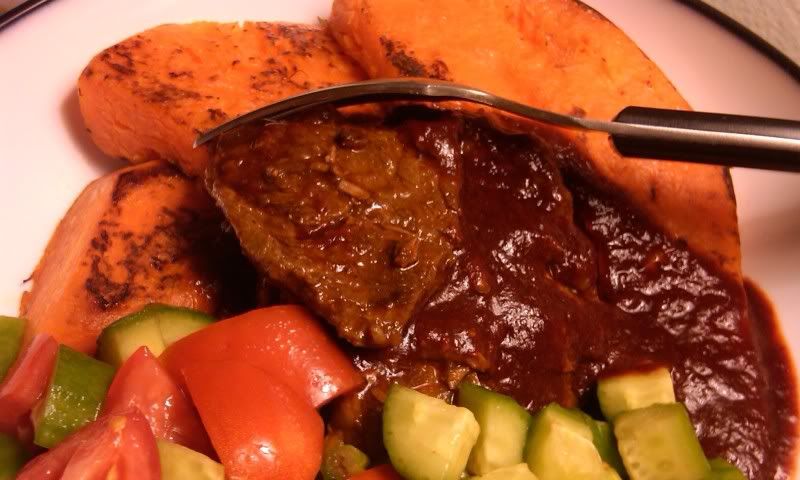 Ingredients
Pumpkin
4 lbs raw, peeled pumpkin
2 tbsp bacon fat, coconut oil, or olive oil
salt to taste
Chili
2 pounds boneless cross rib roast
1/4 lb salt pork or bacon, chopped
1 tbsp bacon fat, olive oil, or coconut oil
1 large onion, chopped
6 cloves garlic, minced
water to cover meat
1 tbsp cumin, ground
2 tbsp paprika
Chili puree
6-9 chili japones
2 chili guajillo
6 chili california
salt to taste
water
Directions
Chili con carne
Slice the meat into two long pieces, then across into thin slices. If your chunk of meat doesn't fit this shape, just go for it. Thin, manageable slices are the key (see picture, below).
Brown the salt pork or bacon in a large skillet, dutch oven, or heavy bottomed pot. Remove to a bowl or your slow cooker.
In small batches, lightly brown the beef, removing the browned slices to the bowl or slow cooker.
Add the oil to the pan, then the onions, cooking until translucent and lightly browned. Stir in the garlic and cook until fragrant. If cooking in the pot or dutch oven, immediately add water so that the garlic doesn't burn, otherwise remove the onion mixture to the slow cooker. Pour in just enough water to cover the meat.
Sprinkle with cumin and paprika and lightly stir. Cover and simmer for 1-3 hours, until just tender.
Meanwhile, make the chili puree.
Chili puree
Tear or cut the woody stems from the chili and shake any loose seeds out. A few won't hurt (they will be strained out later). Place in a covered pot and cover with water. Bring to a boil and allow them to simmer for 20 minutes, then let them cool.
Blend the cooled chilis in a blender, and pour them into a strainer over a large bowl.
Using a spoon or spatula, stir and push the mash around until the puree is in the bowl and all you have is thick fiberous mash and seeds left in the strainer.
Salt the puree to taste.
Pumpkin
Slice the peeled pumpkin into long slices (pictured at the top of the page).
Heat the fat or oil in a non-stick pan and add the pumpkin slices. Cook over medium high heat until the pumpkin is tender, but not falling apart. I think it took 5-8 minutes per side.
Arrange the slices on the top half of the plate, leaving room for the chili in the center, and any other vegetables along the bottom.
Arrange slices of chili con carne down the center of a plate. Serve with some simple sauteed, grilled, or steamed vegetables, like zucchini or grilled bell peppers, or maybe a
chopped salad
.
chili con carne, with pumpkin slices and chopped salad
Drizzle the chili puree over the meat before serving.
Enjoy!
Remember, you have only a couple of days left to pickup the Primal Blueprint 21-Day Total Body Transformation
AND get these freebies.
1. Free ebook – "Primal Living in the REAL World": A 130-page eBook where 100s of Primal enthusiasts share their challenges, solutions and practical tips for how they get – and stay – Primal.
2. Free audio interview – "21-Day Total Body Transformation" Audio Q&A: Download a 60 minute podcast in which Mark discusses the 8 Key Concepts that everyone needs to know to go Primal.
3. $10 Gift Certificate to PrimalBlueprint.com: Spend it like cash and order whatever you want, perhaps a cookbook to go with the 21-Day Transformation book?