My friend Ashley came up with the original version of this awesome soup, then Galya and I tweaked it based on
not reading the recipe fully before shopping
what we had in the house.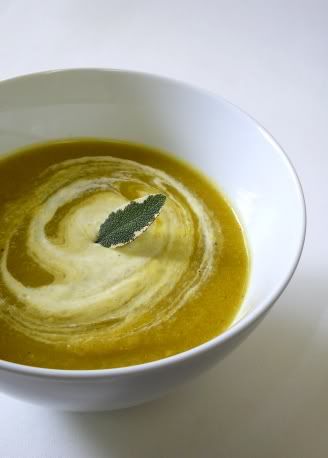 Curried cauliflower soup
This soup is even better the next day, so feel free to make it yesterday, so you can eat it today.
4 servings
Ingredients
1 large head cauliflower
1 large tart apple (like a Granny Smith)
1 clove garlic (optional, but highly recommended)
1 tbsp garam masala (aka curry powder)
1 tsp turmeric (optional, but makes for a nice color)
1 tsp apple cider vinegar
1 tbsp ghee or unsalted butter
salt to taste
Directions
Discard the greens and leaves of the cauliflower. Roughly chop the entire cauliflower, including the core. Peel, core, and chop the apple. Peel the clove of garlic, if using.
Place the apple, garlic, and cauliflower in a soup pot, with enough water to cover. Bring to a simmer and cook for about twenty minutes, until the cauliflower is tender. Blend with an immersion blender. Alternately, you can use a regular blender, just make sure to allow it to cool for a few minutes first, then blend it in batches.
Bring the soup to a slow simmer, and stir in the garam masala, turmeric, vinegar, salt, and ghee. Allow the soup to simmer for a few minutes. If necessary, add enough water to bring the pot to eight cups of soup.
Makes four, 2 cup servings, assuming you added enough water.
Nutrition
Per 2 cup serving – 120 calories, 3.5g fat, 21g carbohydrate, 7g fiber, 5g protein